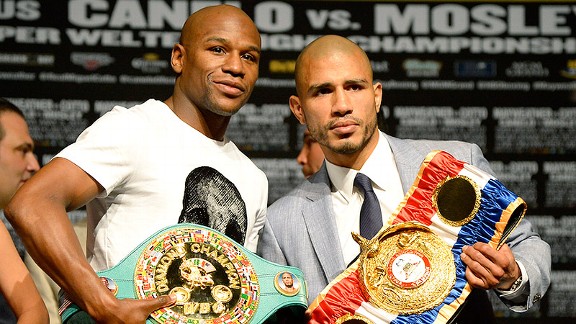 Are you excited to see Floyd Mayweather back in the ring tonight against Miguel Cotto? Mayweather has been out of action since last September when he knocked out Vasquez after the controversial headbutt. Tonight is a really big deal for boxing since Mayweather is going up in weight to take on Cotto in Las Vegas before heading off to jail for 90 days.
Mayweather is a huge draw for the sport and people always tune in to watch when he fights due to his ability to hype a fight by running his mouth. But if you are stuck at work and can't order the pay per view luckily it can be watched online.



If you want to fork over 50 bucks to watch the show you can will find it on your cable provider like Charter or satellite like Dish or DirectTV.
You could go to a sportsbar like Hooters or Buffalo Wild Wings that usually has WWE and UFC events. Another option is to get on Facebook to see if any friends are watching it. Another option is to get on Wrestling, UFC, and boxing forums. You know hardcore fans are going to know where to watch the event live and will tell other fans where to go. If you can stand to wait a little bit the match will be on Youtube late tonight and you can catch it in the office in the morning before work. Another place to look tomorrow would be torrent sites. I've noticed that they are uploaded and available early the next day.